PHILOSOPHY
Have you ever slipped your arms through the sleeves of a well tailored shirt and felt a wave of comfort come over you?
Have you ever experienced a sense of reassurance as you ran your fingertips over the handrail of an old piece of furniture or staircase?
Spaces that accommodate the people who inhabit them, like a favorite item of clothing or pair of shoes.
The texture of architecture and furniture that have taken on a kind of universality, having been used by all kinds of people and withstood the test of time.
Through careful design that emphasizes touch, we create a sense of comfort borne out of harmony between the body and the environment.
肌触りのよい服に袖を通すとき、身体になじむ気持ちよさ。使いこまれた古い家具や階段の手すりに指先で触れるとき、ほっとする安堵感。
そのような、手触りがよく丁寧なしつらえをデザインの中心に据えながら、身体と環境が調和することで生まれる心地のよさを目指して私たちは設計しています。
建築、インテリア、家具、プロダクトをベースに、設計する対象は多岐にわたりますが、一つひとつ丁寧に(遊び心やユーモアも存分に駆使して!)、建築の素材と風土の素材が共鳴し、長い時間をかけて風合いが増すような美しい空間を作りたいと思っています。
HOW WE WORK
For each of our projects, we form a small, highly-functional team with trustworthy partners.
With the greatest respect for craftsmanship, we pay close attention to the scents and sounds of each of our materials, with a keen desire to make the most of their unique characteristics.
With our partners, we strive to maintain friendships based on mutual respect and trust between people and to foster relationships that allow us to push one another to greater heights.
We also proactively embrace new technologies and believe in constantly working to refine our ideas and approaches.
私たちはプロジェクトごとに信頼できるパートーナーたちと少人数で機動力の高いチームを編成します。
クラフトマンシップに敬意を払い、素材の匂いや音の響きをに耳を傾け、持ち味を最大限に引き出すことを大切にしています。
パートーナーとは、お互いの立場を尊重し、人間的に信頼しあえる友人関係を維持し、高め合える関係でいることを心がけています。
また、新しい技術にも積極的に取り組み、アイデアと工夫を持って常に更新していくことを目指しています。
OUR SERVICES
Architectural Design
Concept and Schematic Building Design
Interior Design
Furniture Design
Product Design
Scenography
Branding
Exhibition Planning
Research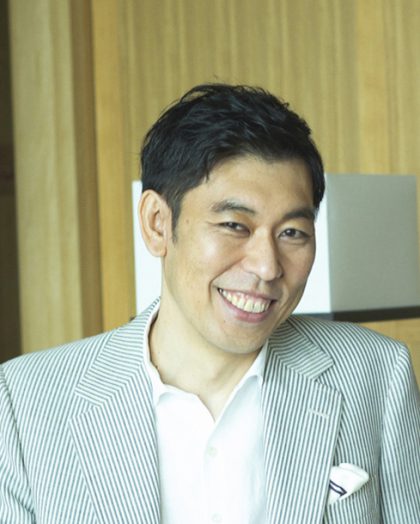 PROFILE
HIROYUKI TANAKA is a architect and founder of HIROYUKI TANAKA ARCHITECTS. He was born in 1976 , JAPAN .Graduated Master's course ,environment design program of Keio University in 2003. He has started his career at CARBONDALE (Paris) ,and especially he has been working for Louis Vuitton Malletier Store project at Avenue des Champs-Elysées,Paris and also he has experienced many projects being worldwide from 2003 to 2005. After back in Japan, established HIROYUKI TANAKA ARCHITECTS in 2006.
Awards
Residential Lighting Awards 2007 (Makoto Koizumi Prize) Good Design Award 2014 (BUKATSUDO) Good Design Award 2015 (House in Nihonbashi)
会社概要
名称:株式会社HIROYUKI TANAKA
所在地:〒151-0062東京都渋谷区元代々木町4-6,2F
代表取締役:田中裕之
資本金:1,000万円
登録:一級建築士事務所 東京都知事登録 第64078号

   建築士賠償責任補償制度

従業員:4名
COMPANY PROFILE
Company name: HIROYUKI TANAKA INC.
ADDRESS : 2F,4-6,MotoYoyogi-cho,Shibuya-ku,TOKYO,151-0062,JAPAN
CEO : HIROYUKI TANAKA
Capital : 10 million JPY
Register : First – class registered architect office / Tokyo No.64078
Architects and Engineers Liability Insurance
Employees : 4